Photographing My First Concert
Just to clarify, this wasn't the first concert I'd ever been to. Just the first one I got to photograph professionally.
It was the Candler Park Music & Food Festival in June 2016, just east of Little Five Points in Atlanta, Georgia. I got VIP access to the event because my friend Wes was a writer for Live for Live Music, and was writing an article covering the festival. Wes lives and breathes music. As you read this, there is a very good chance he's at a live show right now. And he puts my music knowledge to shame. I don't seek out new bands the way he does, so getting to hear something that was new to me was exciting.
I was also excited by the fact that I had just made what remains the single biggest purchase of my life, which was the Sony a7rii camera, upgrading from my Sony a6000. I hadn't had the opportunity to put it through its paces yet, and I figured this show would be an excellent test of whether or not I had made the right choice. I brought my Sony E PZ 18-105 and Rokinon 85mm lenses to the show, because they were the longest ones I owned in terms of the focal length. This would help me get as close as possible to the bands onstage.
I thought the 18-105 would be my go to lens for the festival. It has a wide focal range allows for a variety of different types of shots, and I figured that since it's a native Sony electronic lens it would pair nicely with the camera's features and in-body stabilization. That may be true, but I was not crazy about the optics.
Being limited to f/4 instead of a faster aperture is obviously a drawback. You can't get the cinematic shallow depth of field effect unless you have an f-stop with a lower number. It also doesn't help that it's a crop sensor lens on a full-frame camera, meaning the resolution gets cut down from 42 megapixels to about 18 (though that by itself isn't terrible).
The main drawback is simply that the optics on the lens just aren't as robust. I think it is built as a versatile starter lens, a lens that can perform a lot of different tasks and is a decent step up from most kit lenses, but doesn't have a main selling point. It also is not built for advanced editing in Photoshop & Lightroom. The more I pushed these images to try and get more out of them, the more unflattering they became.
I became discouraged by these early shots (pictured above). I thought the shots I got of Keller Williams were serviceable, but nothing special and not good enough to use in a portfolio or to get more photography gigs. I felt like I was going to blow this huge opportunity, and that Wes would end up putting together a well-written article with a bunch of lame images.
Thank Jesus I brought a backup.
The Rokinon 85mm is a fantastic piece of glass, a lens that I still use on a weekly basis. It's very sharp, handles color very well and has fantastic depth of field. Like most lenses in its price range it suffers from chromatic aberration (the green and magenta fringes you might notice on the edges of objects in images), which is a problem when filming video but it can be easily stripped out of photos.
The version I have is a cine lens. No electronics at all, no autofocus, and no zoom. So it's sort of a weird choice for concert photography, which is why I didn't start off with it initially.
I switched over just in time to see Galactic kill it. These were definitely the best shots from day 1.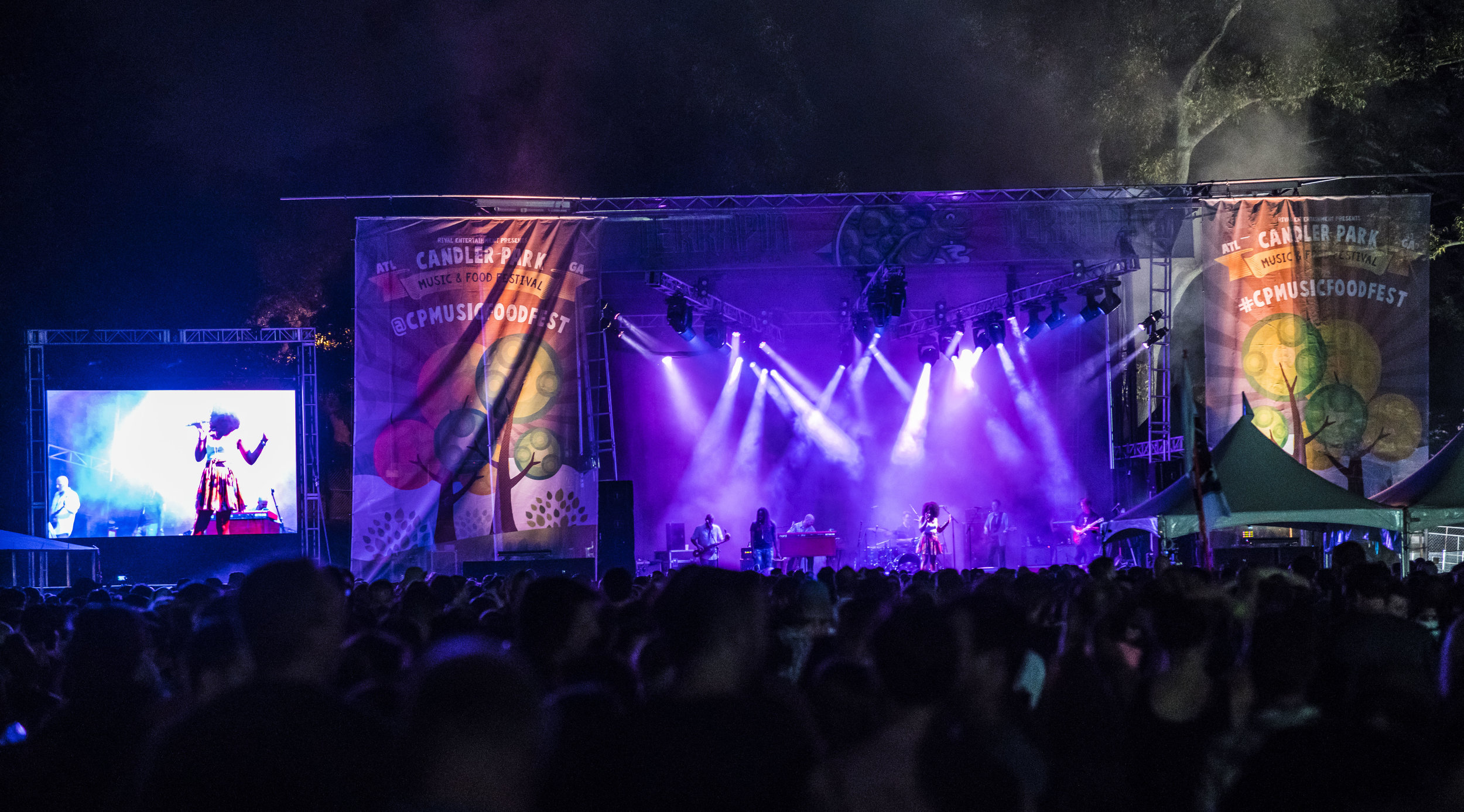 Day 2 was when I enjoyed myself, because I knew enough to look like I might know what I'm doing. Maybe.
It was also the day that featured The Revivalists, which was my favorite band of the whole show and the one Wes got me excited to see. You've probably heard their song "Wish I Knew You" playing on the loudspeakers at your local supermarket. Hopefully some of their other songs will get on the radio too. They had an awesome set, and I was able to get up close to them & grab a few shots that I like. I could definitely do better today, but I'm still proud of some of these.
Closing out day 2 was The Chris Robinson Brotherhood. This was probably the most fun part of the show to shoot, and then edit later. It was nighttime at this point so the stage lights were in full effect.
I love color grading concerts with dramatic lighting. Nothing looks realistic from the start, so you are free to push the colors however you want. And when you have the dynamic range of the a7rii's uncompressed raw photos (85 megabytes apiece), there's so much you can do.
I sent all these to Wes who passed them along to the publisher. I was a little bummed that they didn't use some of my favorite images in the article. The one of David Shaw singing and pointing is probably my favorite out of the bunch.
Then again, taste is subjective. I can't even say with certainty that I picked all the best images that I took that weekend, when I took over 77 gigabytes of photos and most of them I never looked at again. But I did keep them... so that may be the topic of a future blog post.
If there is one thing I learned from the festival, it's how important the glass is. It's just as important as the camera and choosing the right lens for the camera should involve just as much thought. I will definitely be bringing my Rokinon 85 with me next time for good luck, along with a decent telephoto lens. Probably a 70-200. But who knows, I can't plan that far ahead and I WON'T.
And if you happen to be at the 2018 Candler Park music festival, come say hi to me! I'll be the tall lanky guy with a camera. :)
Click here to check out Wes Ogden's original article that covered the show.